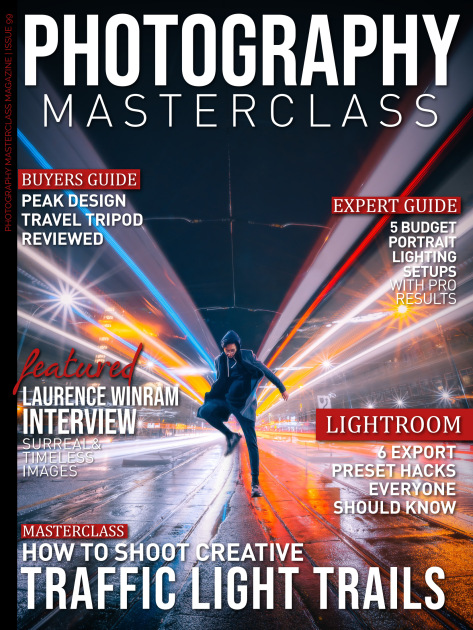 Mar 01, 2021
Photography Masterclass Magazine Newsstand
Issue 99
In this issue
If photographing traffic isn't something you immediately think of as being creative photography - then think again! Car light trails can produce fantastic images and help you experiment with long exposures and manual mode. In this issue, we'll teach you all about how to photograph traffic light trails, the equipment you'll need and good locations to try out.
Also in this issue:
+ Discover 5 budget portrait lighting setups, that just use one light, but produce pro results!
+ We bring you an in-depth interview with Scottish photographer, Laurence Winram, whose dreamlike images can take the viewer to another world.
+ In an inspirational article, we look at top ways to spark ideas and creativity in your photographic work.
+ Learn 6 Lightroom Export hacks everyone should know, to simplify your workflow and make your life easier, in a great photo editing video tutorial.
+ We feature the epic beauty of the Isle of Skye in Scotland in an incredible timelapse journey.

+ And don't miss our review on the Peak Design Travel Tripod and find out whether we think this is the best travel tripod you can buy!
Get All This and More In A Content Packed Issue!