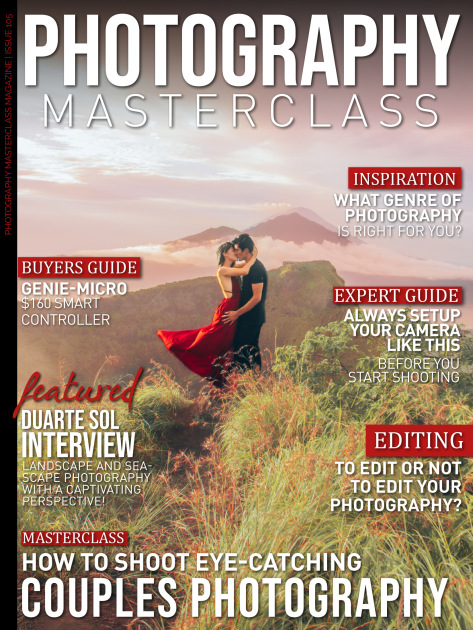 Sep 01, 2021
Photography Masterclass Magazine Newsstand
Issue 105
In this issue
Every photographer should know how to get great photographs of couples. From engagement shoots through weddings, family get-togethers and events, there are tons of scenarios where you could be photographing a couple. In this issue of Photography Masterclass Magazine, we give you all the knowledge you need to capture photographs that show the bond between two people!
Also in this issue:
+ In our inspiration section, we explore how you can choose what photography genre is right for you.
+ We bring you an in-depth interview with Portuguese photographer, Duarte Sol, who shoots landscape and seascape photography with a captivating perspective.
+ We discuss whether to edit or not edit and how far to take your post-processing, in a great photo editing video tutorial.
+ In our expert section, find out how you should always set up your camera up before you start shooting!
+ Experience an incredible timelapse of Los Angeles in miniature.
+ And don't miss the lowdown of the Genie Micro - a $160 smart controller for your camera!
Get All This and More In A Content Packed Issue!