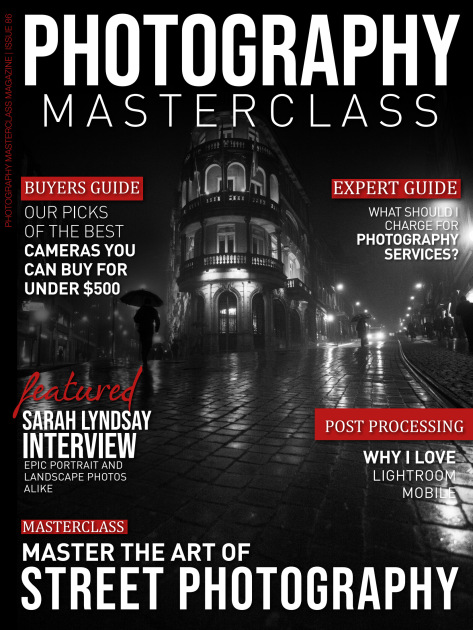 Feb 01, 2020
Photography Masterclass Magazine Newsstand
Issue 86
In this issue
Street photography is all about telling a story and is an excellent way to hone and improve your photography skills – requiring you to think on your feet and shoot fast.
In this issue, discover how to master the art of street photography, the equipment you'll need and how to capture the best images with your own unique perspective.
Also in this issue:
+ In our expert guide, we look at how to exactly what you should charge for photography services.
+ You'll discover tips and advice on how to break out of a creative rut, get inspired, and improve yourself as a photographer and artist, in an inspirational video tutorial.
+ We interview Canadian photographer, Sarah Lyndsay, whose incredible skill in multiple genres of photography produce some epic portrait and landscape photos alike!
+ You'll discover what's to love about Lightroom Mobile in a great video tutorial.
+ We feature an amazing time-lapse that capturing the beauty and majesty that is Monsoon season!
+ And don't miss our guide on our picks for the best 8 cameras you can buy for under $500!
Get All This and More In A Content Packed Issue!