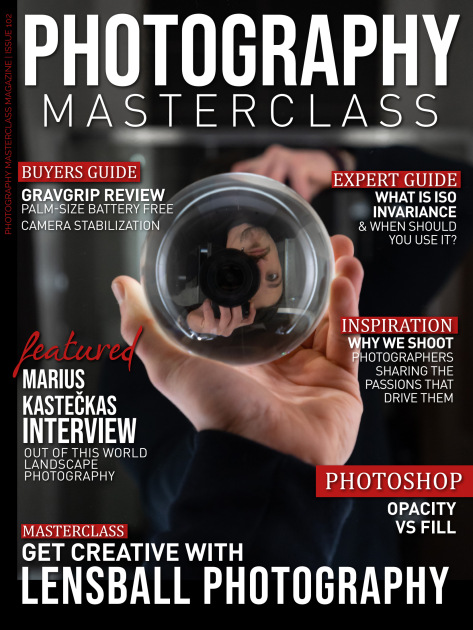 Jun 01, 2021
Photography Masterclass Magazine Newsstand
Issue 102
In this issue
If you've never used a lensball before, then these little glass balls are a great and inexpensive way to get creative with your photography! For around $25 you can add one to your camera bag. If photography is becoming a little dull for you, then pick one up and try one of the creative ideas we cover in this issue of Photography Masterclass Magazine, to get your inspiration flowing once more!
Also in this issue:
+ In our inspiration article, we look at why we shoot, with photographers sharing the passions that drive them.
+ We bring you an in-depth interview with photographer, Marius Kastečkas , creator of landscape photography that is out of this world!
+ Learn when to use opacity vs fill in Photoshop, in a great photo editing video tutorial.
+ We discuss what ISO invariance is and when you should use it
+ We feature a stunning timelapse capturing some of the wonder of Azerbaijan at its best.
+ And don't miss the lowdown on the GravGrip - the palm-sized, pocket-friendly & battery-free camera stabilization device!
Get All This and More In A Content Packed Issue!