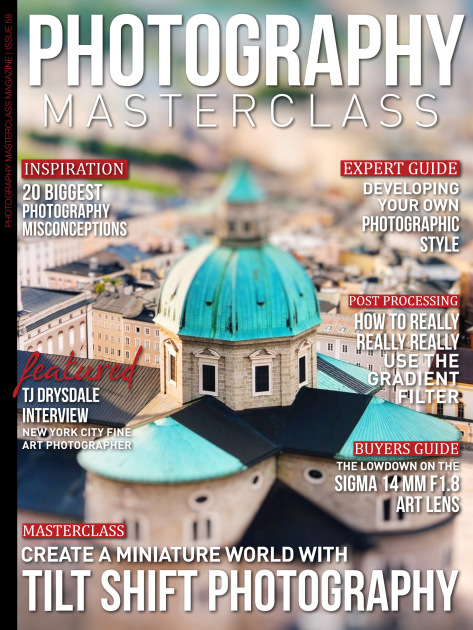 Oct 01, 2017
Photography Masterclass Magazine Newsstand
Issue 58
In this issue
Using tilt shift in your photography allows you to control and change the perspective of a photo in a way that normally isn't possible.
Because of this it's possible to take a real world scene and produce a miniature effect where the buildings look like small models.

In this issue you'll discover how tilt shift lenses work and how to get the best out of them, and if you don't own a tilt shift lens, we'll show you how to easily replicate the miniature tilt shift effect in Photoshop.
Also in this issue:
+ Discover the 20 biggest photography misconceptions - photography ideas widely taught, that don't seem to be supported by fact.
+ In today's image saturated world, you want your photos to stand out and working on your own style is a great way to start doing this. But how do you start to develop a style? We look at exactly how to start developing your own photography style.
+ We interview New York City native, TJ Drysdale, who approaches photography using natural light to create ethereal images that are reminiscent of fairy tales.
+ We feature a handpicked selection of our favourite photos in our Editors Choice section.
+ You'll learn how to really use the gradient filter in a great Lightroom video tutorial.
+ We showcase an epic timelapse film of Carhenge, one of Americas most incredible roadside attractions, situated directly in the path of totality for the 'Eclipse of the Century' aka the total solar eclipse of August 21st, 2017, a very rare phenomenon captured in this video
+ We also give you the lowdown on the Sigma 14 mm f1.8 ART Lens, the world's first and only F1.8 ultra-wide-angle lens, and being hailed the Astro-photographers Dream Lens.
Get All This and More In A Content Packed Issue!