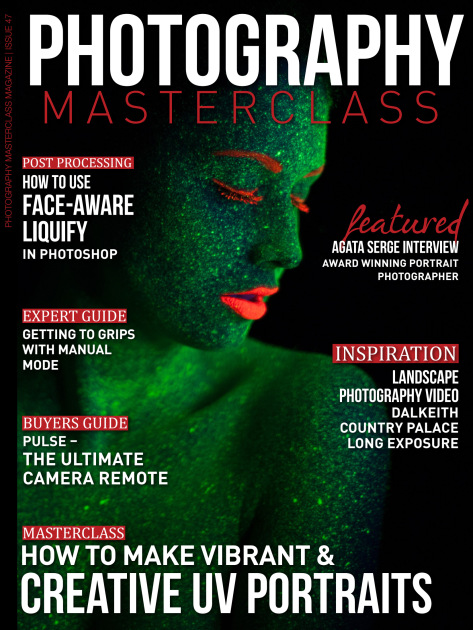 Nov 01, 2016
Photography Masterclass Magazine Newsstand
Issue 47
In this issue
Sometimes it's great to experiment with something completely different, and UV photography is just that. Using a selection of UV lighting and UV products, you can create some seriously vibrant and creative portraits. In this issue we look at exactly what it takes to get great results with UV photography!
Also in this issue:
+ Kevin Roberts' video takes us behind the scenes of his most recent photo, where he finds an unusual perspective by photographing a palace from behind a bridge.

+ In our expert guide, we look at exactly how you can make the move into shooting in manual mode.
+ We interview award winning portrait photographer, Agata Serge, who is most well known for her unique black and white portraits of women with freckles.
+ We feature a handpicked selection of our favourite photos in our Editor's Choice section.
+ You'll learn how to adjust facial features using Face-Aware Liquify tool in a great Photoshop video tutorial.
+ We showcase an incredible timelapse film that showcases some amazing sky shows captured over a period of 6 years!
+ We also give you the lowdown on the Pulse camera remote - billed as the 'Ultimate' in camera remotes, and you'll see why.
Get All This and More In A Content Packed Issue!