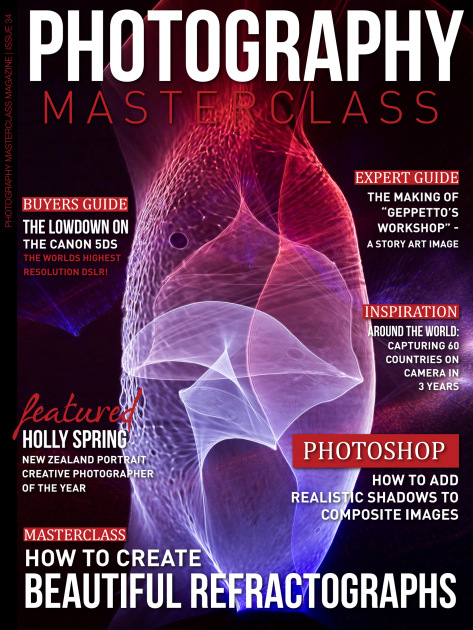 Sep 30, 2015
Photography Masterclass Magazine Newsstand
Issue 34
In this issue
Do you want to do something a bit different and creative with your photography? Why not create a beautiful refractograph. If you've never heard of Refractographs, they are artistic images created without a lens on your camera using refracted light, and with little to no post processing involved. The results can be stunning works of art and in this issue we show you exactly what's involved and just how to create your own.
Also in this issue, we interview New Zealand Portrait Creative Photographer of the Year, Holly Spring, whose whimsical portraits of her daughter have gained worldwide recognition and an international following. Her images are truly stunning.
If you're looking for even more inspiration, after great feedback from her last article, Karen Alsop is back showing us how she created another one of her great StoryArt composited images. Continuing the same theme, Larry Lourcey demonstrates how to easily add shadows into your composite images in a great Photoshop video tutorial. And Ryan Sitzman gives us the lowdown on the Canon 5DS, the world's highest resolution DSLR at 50 megapixels!
Get all this and more in this content packed issue!