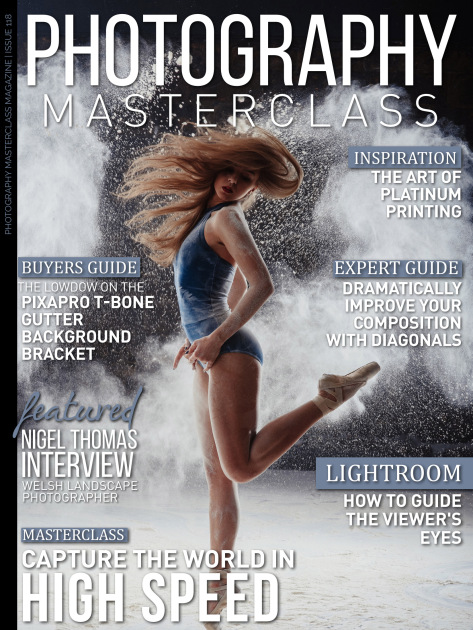 Oct 01, 2022
Photography Masterclass Magazine Newsstand
Issue 118
In this issue
Capture The World In High Speed
What is high-speed photography? It's all about capturing moments that happen so quickly that you can't see them with the naked eye, such as bursting balloons or splashing water. In this issue of Photography Masterclass Magazine, we're going to tell you all about high-speed photography and teach you some techniques for getting creative results with this really fun genre.
Also in this issue:
+ We look at the art of platinum printing!
+ We bring you an in-depth interview with Welsh landscape photographer, Nigel Thomas. He has a powerful story to tell. One of honesty and one of hope. Maybe his story might help you or someone close to you.
+ Learn how to guide the viewer's eyes, in a great Lightroom video tutorial.
+ In our expert guide, you'll learn how to dramatically improve your composition with diagonals.
+ Experience an epic adventure storm chasing from Sudan, Texas to Malta, Montana.
+ And don't miss the lowdown on the Pixapro T-Bone Gutter Background Bracket, a revolutionary background support system!
Get All This and More In A Content Packed Issue!