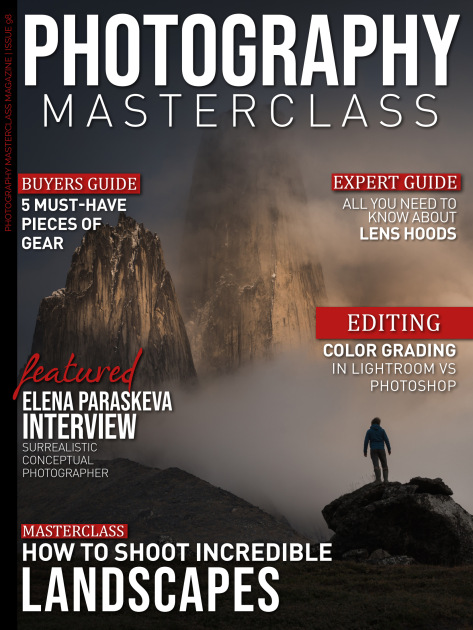 Feb 01, 2021
Photography Masterclass Magazine Newsstand
Issue 98
In this issue
Landscape photography is a hugely popular genre and the world is full of stunning locations just waiting to provide you with some fantastic photographic opportunities. But getting stunning landscape images requires the right equipment and technical know-how. In this issue of Photography Masterclass Magazine, we'll run you through everything you need to know to get incredible landscape shots.
Also in this issue:
+ Lens hoods are an incredibly simple and incredibly useful piece of kit. But people often don't know what their purpose is, when they might use one or what lens hood, they should buy. In our expert guide, you'll learn all you need to know about lens hoods.
+ We also bring you an in-depth interview with international Conceptual Photographer and Art Director, Elena Paraskeva who loves to create surrealistic conceptual work bathed in color. Her images will blow you away!
+ In our inspiration article, discover what Krystal's "Top 5 Things I Wish I Knew When I Started Portrait Photography" are and how that insight can help you.
+ Lightroom has released its new color grading panel. So just how good is color grading in Lightroom, especially when comparing the more professional color grading in Photoshop technique? You'll learn how to color grade photography in Lightroom and we'll also put this technique head to head by doing the same in Photoshop in a great post-processing video tutorial.
+ We feature a stunning timelapse, "Helvetia's Dream", which takes you on a night-time journey to some of the most beautiful spots in the Swiss Alps - from Arosa to Zermatt, including the world-famous mountains Matterhorn and Eiger
+ And don't miss our Buyer's Guide where we share our five "should-definitely-think-about-having" pieces of gear that can seriously improve your life as a photographer!
Get All This and More In A Content Pa