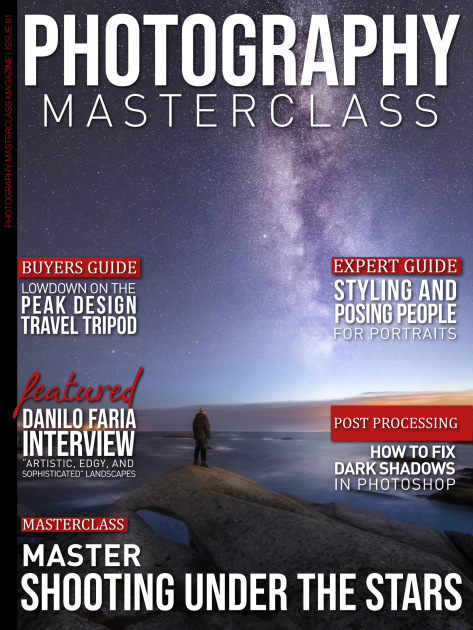 Sep 01, 2019
Photography Masterclass Magazine Newsstand
Issue 81
In this issue
There's something magical about photographing the night sky and coming away with a shot that really blows people away. In this issue, Ole Henrik Skjelstad, who has been described as one of the best landscape photographers in the world, shares his tips and tricks for photographing the stars, the milky way and our incredible night sky.
Also in this issue:
+ In our expert guide, we look at everything you need to know about styling and posing people for portraits.
+ You'll discover 3 tips for great photos, in an inspirational video tutorial.
+ We interview landscape photographer, Danilo Faria, whose incredible work has been described as "artistic, edgy, and sophisticated" and for good reason!
+ We feature a handpicked selection of our favourite photos in our Editor's Choice section.
+ You'll learn how to remove dark shadows from a photo in Photoshop in a great video tutorial.
+ We feature an amazing kaleidoscopic timelapse that feels like you've been transported into another world.
+ We also give you the lowdown on the Peak Design travel tripod, one of the world's most portable and compact travel tripods!
Get All This and More In A Content Packed Issue!