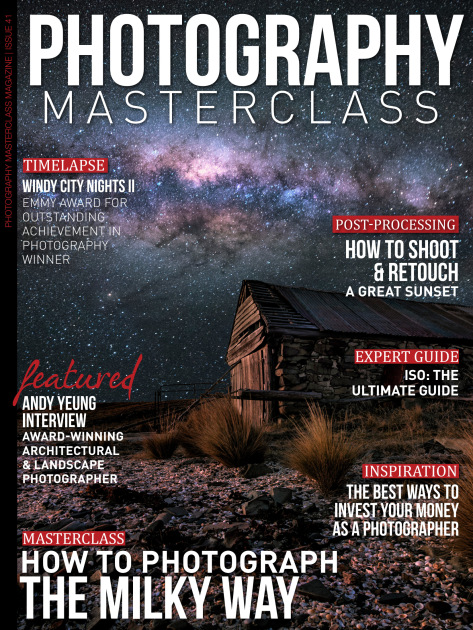 May 01, 2016
Photography Masterclass Magazine Newsstand
Issue 41
In this issue
It's hard to come across anyone who's not captivated by the night sky and our beautiful Milky Way. Seeing objects that are billions of years old and starlight that may travelled for thousands of years to reach us is mesmerizing. But until recently it used to be an elusive dream for a normal photographer to capture. Now with the advancements in DLSR technology, anyone can capture a beautiful image of our amazing Milky Way.
In this issue, we go in-depth into exactly how to plan, shoot and process your Milky Way images. We teach you exactly how to make sure you're in the right spot at the right time, techniques to avoid star trails in your images, and how to make the most of your images in post-processing once you're back home. Nothing can beat the feeling of looking at an fascinating picture of the Milky Way that you know you shot yourself!
Also included in this issue, is the ultimate guide to understanding ISO; we look at the best ways to invest your money as a photographer; watch and go behind the scenes of the video which won the 2015 Emmy Award for Outstanding Achievement in Photography; speak to award winning architectural and landscape photographer, Andy Yeung; and look at exactly how to shoot and retouch a great sunset in Lightroom.
Get all this and more in a content packed issue!