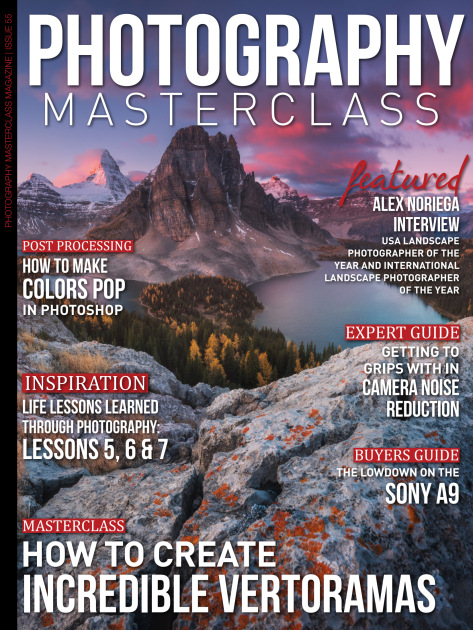 Jul 01, 2017
Photography Masterclass Magazine Newsstand
Issue 55
In this issue
What is a vertorama? A vertorama is similar to the classic panorama but instead of shooting from left to right, you shoot from top to bottom. This allows you to create a wide photo that is also really tall - something that would be impossible when shooting in portrait mode or with a regular panorama. This technique is great for shooting tall buildings, landscapes and interiors. In this issue we look at exactly how to create incredible vertoramas and what mastering this technique can do for your photography.
Also in this issue:
+ Find out the best life lessons learned through photography in an inspirational video series - in this issue the final lessons in the series, lessons 5, 6 and 7.
+ In our expert guide, we get to grips with how in camera noise reduction works and when its best to use.
+ We interview USA Landscape Photographer Of The Year and International Landscape Photographer Of The Year, Alex Noriega, whose incredible images have been featured in numerous publications worldwide.
+ We feature a handpicked selection of our favourite photos in our Editor's Choice section.
+ You'll learn how to make colors POP in Photoshop, in a great video tutorial.
+ We showcase an amazing hyperlapse which takes you on a three minute long roller coaster like journey through the streets of Zurich.
+ We also give you the lowdown on the Sony a9 and look at whether this could be the professional photographer's answer to switching to mirrorless!
Get All This and More In A Content Packed Issue!