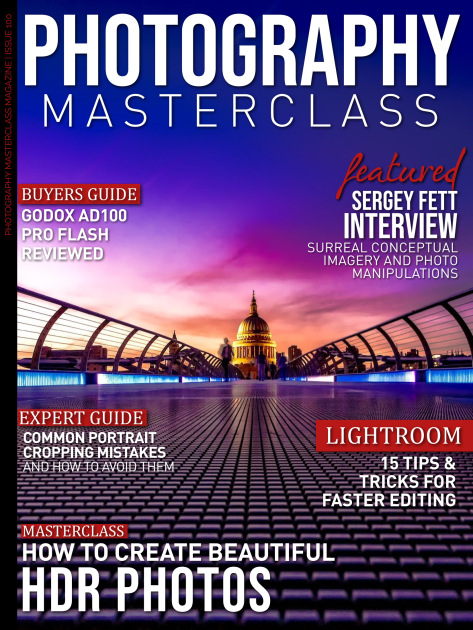 Apr 01, 2021
Photography Masterclass Magazine Newsstand
Issue 100
In this issue
HDR allows photographers to combine images and bring out the full dynamic range of an image - from shadows to highlights. It can be extremely useful in certain photographic situations & allows you to capture well-exposed shots that wouldn't be possible with one exposure. However, care needs to be taken to make sure your images don't look over-processed. In this issue, we'll look at how to create beautiful HDR images and the technical skills you'll need.
Also in this issue:
+ Discover common portrait cropping mistakes and how to avoid them!
+ We bring you an in-depth interview with photographer and visual artist, Sergey Fett, who specializes in surreal conceptual imagery and photo manipulations.
+ In an inspirational article, we look at what it's like to photograph celebrities.
+ Learn 15 Lightroom tips & tricks for faster editing, in a great photo editing video tutorial.
+ We feature an outstanding timelapse that captures the beauty of the night sky of Dakota, Wyoming & Arizona.
+ And don't miss our review on the Godox AD100 Pro Flash - the off-camera flash the size of a soda can!
Get All This and More In A Content Packed Issue!