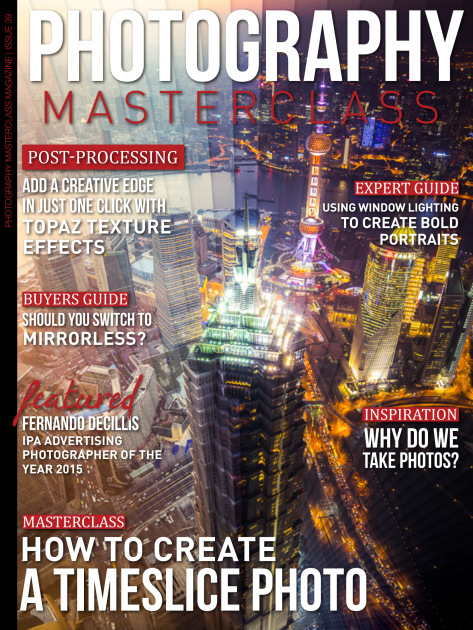 Mar 01, 2016
Photography Masterclass Magazine Newsstand
Issue 39
In this issue
Have you seen the amazing Timeslice photos of Dan Marker-Moore recently, and are you wondering how they were made? Dan's beautiful images show the transition of a scene from day to night, in a single image. Luckily Dan has shared some of his beautiful images with us and his technique for how it's done. Time slice photos are a creative way to do something experimental and different with your photography, so if you want to create some of your own now's your chance!
One of the highlights of the month was the chance to interview IPA Advertising Photographer of the Year, Fernando Decillis. When you see his images you'll know exactly why he's worthy of that award.
There are also loads of other great articles and videos to keep you inspired. Mike Newton demonstrates how to create dramatic photos with only window lighting from a single window in a dark room; We look at the latest Topaz Labs Lightroom and Photoshop plugin, Texture Effects; Showcase a breath-taking 4K timelapse of the beautiful American South-West; and give you our take on the hot debate of whether you should switch from a DSLR to mirrorless.
Get all this and more in a content packed issue!