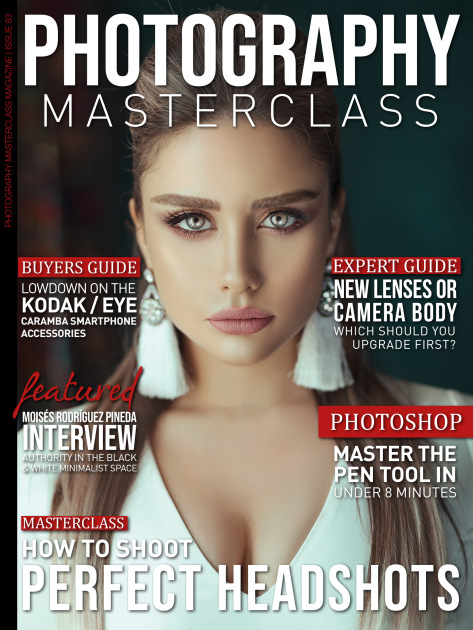 Nov 01, 2019
Photography Masterclass Magazine Newsstand
Issue 83
In this issue
Taking a good headshot should be part of any photographer's arsenal, no matter whether they're a pro or enthusiastic amateur. Especially for pros, headshots can be the bread and butter of their business. A headshot is defined as a photograph of a person's face and shoulders and is most often used in a professional context. In this issue we teach you all you need to know about taking perfect headshots.
Also in this issue:
+ In our expert guide, we discuss whether you should upgrade your lenses or body first.
+ You'll discover 3 tips to start taking better photos, in an inspirational video tutorial.
+ We interview photographer, Moisés Rodríguez Pineda, an authority in the black & white minimalist space
+ We feature a handpicked selection of our favourite photos in our Editor's Choice section.
+ You'll learn how to use the pen tool like a pro in Photoshop in a great video tutorial.
+ We feature an awe-inspiring time-lapse shot over 6 nights in Southern Utah.
+ We also give you the lowdown on the Kodak / Eye Caramba Smartphone Accessories, and bring back the Kodak nostalgia with some of the most affordable kit for your smartphone!
Get All This and More In A Content Packed Issue!