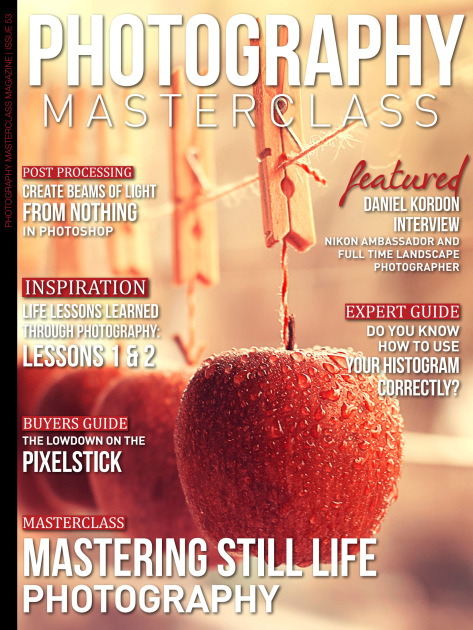 May 01, 2017
Photography Masterclass Magazine Newsstand
Issue 53
In this issue
Still life photography is a genre that dates back to the very beginning of photography itself. With still life photography, as a photographer, you have full control over your lighting setup, your composition and the overall mood of your photos. This allows you some powerful options for creativity in your images which can result in a really unique portfolio.

In this issue, we look at how to master still life photography and the tips and tricks needed for successful shots.

With near endless possibilities, still life photography is a genre every photographer should master.

Also in this issue:
+ Find out the best life lessons learned through photography in an inspirational video series - in this issue lessons 1 and 2.
+ In our expert guide, we look at the histogram and how to use it correctly to get perfectly exposed shots every time.
+ We interview Nikon Ambassador and full time landscape photographer, Daniel Kordon, who spends his life travelling the world capturing beauty in remote locations.
+ We feature a handpicked selection of our favourite photos in our Editor's Choice section.
+ You'll learn how to create beams of light from nothing in Photoshop in a great video tutorial.
+ We showcase an amazing timelapse that explores the beauty of southern New Zealand and aims to bring you as close to the scenery as being on location.
+ We also give you the lowdown on the one-of-a-kind Pixelstick, that allows you to add photoreal images, abstract designs, and animation to your long exposure photos and timelapses.
Get All This and More In A Content Packed Issue!