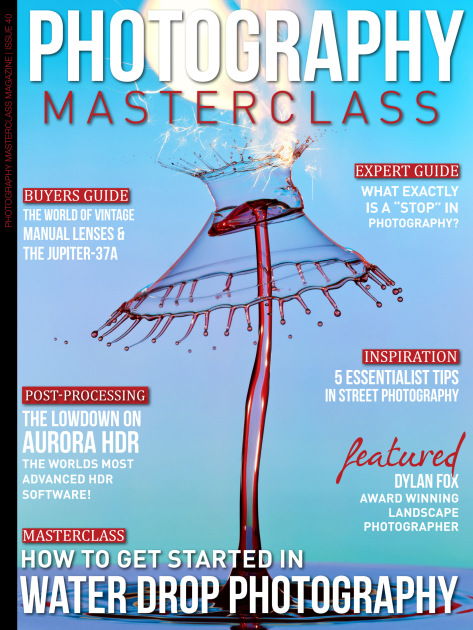 Apr 01, 2016
Photography Masterclass Magazine Newsstand
Issue 40
In this issue
Water Drop photography is a unique genre of photography. If you've admired these beautiful high speed photos from afar but never really knew how they were captured, in this issue, Water Drop guru Corrie White shares her years of water drop experience with us. She demonstrates how to get started with minimal equipment and get stunning results. And if you want to take things further she delves into detail about more specialised techniques and equipment you can use to really take things to the next level.
A 'Stop' is often one of the most misunderstood terms in photography. Have you ever wondered what it actually means or why photographers measure light in this way? Read our expert guide and watch the videos in this issue to find out!
We've got lots of other great articles and videos waiting in this issue. We interview award winning landscape photographer, Dylan Fox; We look at the new hyperzooming video by Geoff Tompkinson and see exactly how it was made; Larry Lourcey demonstrates the amazing new HDR software by Trey Ratcliff, Aurora HDR Pro; and we look at the world of using vintage lenses on your DSLR including the Jupiter-37A .
Get all this and more in a content packed issue!