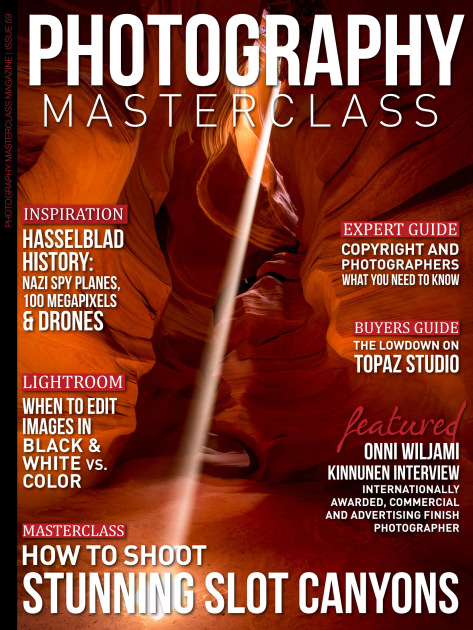 Nov 01, 2017
Photography Masterclass Magazine Newsstand
Issue 59
In this issue
Slot canyons are a firm favorite of landscape photography, in part due to their shear variety. Coming in all shapes and sizes - with colours of sandstone, green and white, with and without waterfalls, and lighting that can include beautiful white shafts of light, or eerily dark chasms - these spectacular natural wonders offer unequalled beauty and opportunities for amazing images.
In this issue we'll focus on canyons in the Southwest of the USA, but the techniques can be applied anywhere. We'll talk about the logistics behind visiting them, what kind of camera gear we recommend, and provide you with all the information you need to create incredible compositions.
Also in this issue:
+ Discover the best parts of the history of the world's most prestigious camera company, Hasselblad, in an inspirational video.
+ We look at copyright for photography and what you as a photographer need to know
+ We interview internationally awarded, Commercial and Advertising Finish photographer, Onni Wiljami Kinnunen.
+ We feature a handpicked selection of our favourite photos in our Editor's Choice section.
+ In our Lightroom tutorial, you'll learn the general practices and principles you may use as guidelines when deciphering when exactly an image could be stronger in black and white vs colour.
+ See a breath-taking view of the cleanest and darkest skies in the world filmed in a rare and beautiful timelapse
+ We also give you the lowdown on Topaz Studio - a simple to use editing platform with Topaz Labs' powerful acclaimed photo enhancement technology.
Get All This and More In A Content Packed Issue!