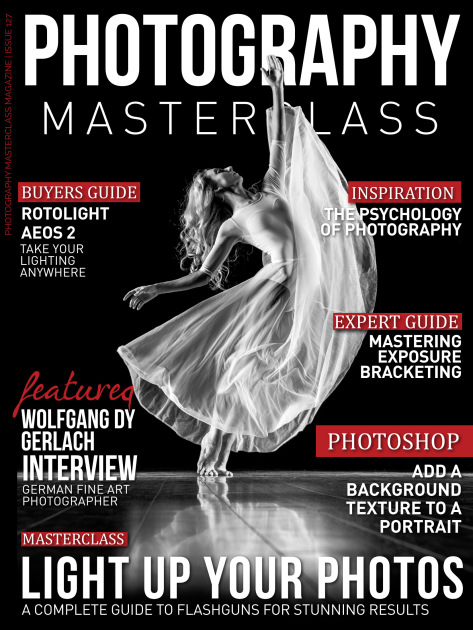 Jul 01, 2023
Photography Masterclass Magazine Newsstand
Issue 127
In this issue
Light Up Your Photos: A Complete Guide to Flashguns for Stunning Results
Unleash the true power of your flashgun and capture stunning results with this issue of Photography Masterclass Magazine. In our comprehensive masterclass, we demystify the world of flash photography and equip you with the knowledge to confidently control light and banish harsh shadows.
From selecting the perfect flashgun to mastering off-camera techniques, this masterclass covers it all. Discover the art of balancing flash with ambient light and unlocking captivating portrait shots.
Don't miss out on this essential resource for taking your flash photography to new heights!
But that's not all! Also in this issue:
+ In our Editor's Choice section we showcase a handpicked selection of our favorite photos.
+ In our expert guide, we look at how to master exposure bracketing with tips & techniques for perfect shots.
+ We explore the psychology behind why we take photos and what drives us to capture certain subjects or moments.
+ Learn how to add a background texture to a portrait, in a great Photoshop video tutorial.
+ We interview German fine art photographer, Wolfgang DY Gerlach, whose striking and unique image of dancers in motion captures the viewer's eye to dramatic effect.
+ In our Readers Gallery, we showcase the very best shots from our talented readers.
+ Experience a timelapse journey around the vibrant & modern city of Oslo in miniature form.
+ And don't miss our guide on the Sigma 50mm f/1.4 DG DN Art Lens for mirrorless cameras!
Get All This and More In A Content Packed Issue!