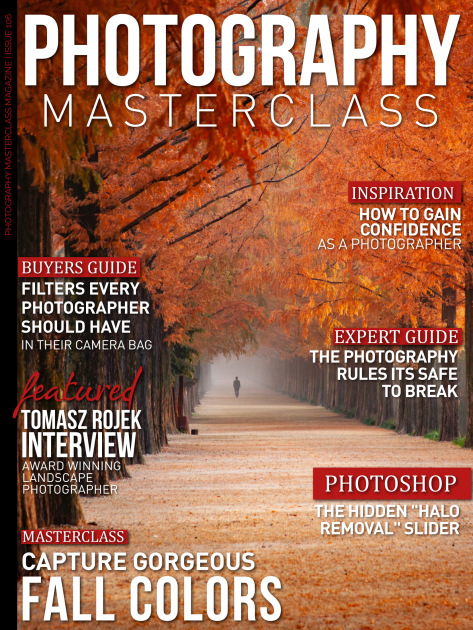 Oct 01, 2021
Photography Masterclass Magazine Newsstand
Issue 106
In this issue
Fall is a unique time of year for photographers, with a range of colour hues that lend themselves to rich and detailed imagery. Whatever the weather, there are numerous opportunities to capture beautiful landscapes at this time of year. In this issue of Photography Masterclass Magazine, we give you all the tips and tricks you'll need to make the most of the gorgeous colors of Fall.
Also in this issue:
+ In our inspiration section, we explore how to gain confidence as a photographer.
+ We bring you an in-depth interview with award-winning and widely recognized, landscape photographer, Tomasz Rojek, whose images appear in the top 1 % of the international 35Awards Natural Landmarks of the Planet competition. With a passion for travel, he provides great insight into what it takes to capture world-class images.
+ Discover the hidden "halo removal" slider, in a great photo Photoshop video tutorial.
+ In our expert guide section, we look at the photography rules it's safe to break!
+ Experience an epic storm chasing timelapse - a result of 28 000 miles travelled.
+ And don't miss the lowdown of the filters we think every photographer should have in their camera bag!
Get All This and More In A Content Packed Issue!