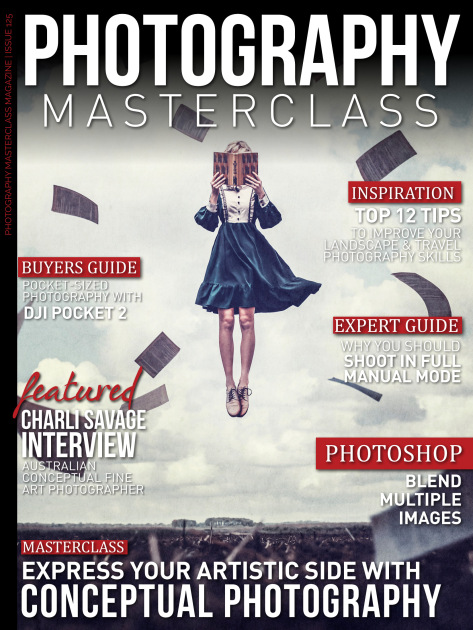 May 01, 2023
Photography Masterclass Magazine Newsstand
Issue 125
In this issue
Express Your Artistic Side With Conceptual Photography
Conceptual photography is more than just capturing beautiful images, it's about the power of ideas and how they can be expressed through the lens. In this issue of Photography Masterclass, we explore this genre of photography which is not only a form of art but also a way to convey messages and provoke thoughts. Learn the creative process behind conceptual photography, from the initial idea to the final execution, inspiring you to push the boundaries of your own creative vision.
Also in this issue:
+ In our Editor's Choice section we showcase a handpicked selection of our favorite photos.

+ In our expert guide, we look at some of the top reasons why you should consider shooting in manual mode.

+ Find out our 12 photography tips to improve your landscape and travel photography.

+ Discover how to blend multiple images, in a great Photoshop video tutorial.

+ We interview Australian conceptual fine art photographer, Charli Savage, a multi-award winner with a passion to tell stories in her own way.

+ In our Readers Gallery, we showcase the very best shots from our talented readers.

+ Experience an incredible timelapse video journey around Fly Geyser.

+ And don't miss our guide on pocket-sized filmmaking and photography with the DJI Pocket 2 – a revolutionary camera for on-the-go creativity.

Get All This and More In A Content Packed Issue!