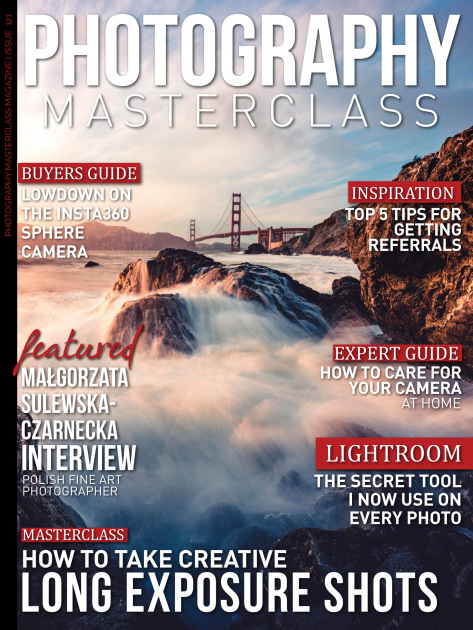 Jan 01, 2023
Photography Masterclass Magazine Newsstand
Issue 121
In this issue
How To Take Creative Long Exposure Shots
Long exposures can lead to truly stunning and impactful images and it's a skill well worth getting to grips with. In this issue of Photography Masterclass Magazine, we teach you all about long exposures and show you how to use them for stunning photographic results. Once you understand the process, the only limit is your imagination in how you choose to shoot long exposures.
Also in this issue:
+ We give you our top 5 tips for getting referrals!
+ We bring you an in-depth interview with fine art photographer, Małgorzata Sulewska-Czarnecka who creates images delicately touching on surrealism, blurring the line between photography and painting. Each image is technically perfect and tells a story that draws you in.
+ Learn the secret Lightroom tool you should use on every photo, in a great editing video tutorial.
+ In our expert guide, we reveal our tips for how to care for your camera at home.
+ Join in a stunning timelapse trip to the highest peaks of Madeira.
+ And don't miss the lowdown on the Insta360 Sphere Camera – the invisible drone 360 camera.
Get All This and More In A Content Packed Issue!