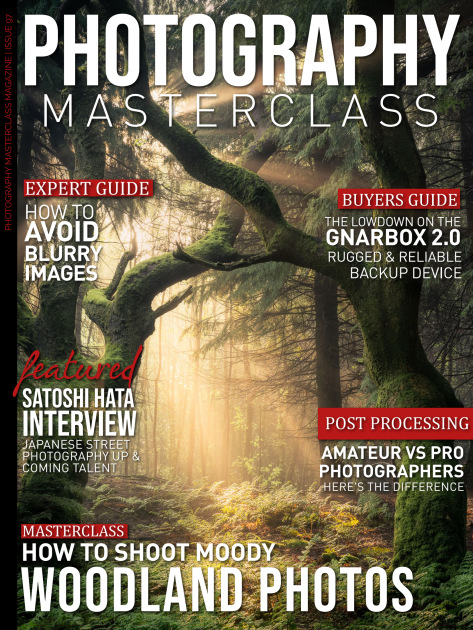 Jan 01, 2021
Photography Masterclass Magazine Newsstand
Issue 97
In this issue
Ready to dust off the cobwebs of the past year? One of the best ways to bring in the new year is by trying your hand at something new. Woodlands and forests are wonderful places to create tranquil, stunning imagery, and the creative possibilities for unusual and unique images are huge. - a great way to spark off your creativity in the new year. In this issue of Photography Masterclass, we give you all the tips and tricks to get fantastic and moody woodland photographs.
Also in this issue:
+ In our expert guide, you'll learn how to avoid blurry images.
+ We also bring you an in-depth interview with Japanese Street photographer, Satoshi Hata. Every now and again we like to focus on grassroots talent. We picked up on this young photographer and were blown away by his images!
+ In our inspiration video, discover six quick tips to improve your photography.
+ Learn the key technique that separates amateur photographers from professionals, and how mastering this one concept will instantly improve your photography, in a great post-processing video tutorial.
+ We feature a mesmerising timelapse journey, looking at the macro world of frozen flowers, ink and oil. This incredible timelapse was Christopher Dormoy's personal project to keep his creativity flowing during the Covid-19 lockdown.
+ And don't miss the lowdown on the Gnarbox 2.0 - dubbed the most rugged and reliable backup device on the planet!
Get All This and More In A Content Packed Issue!