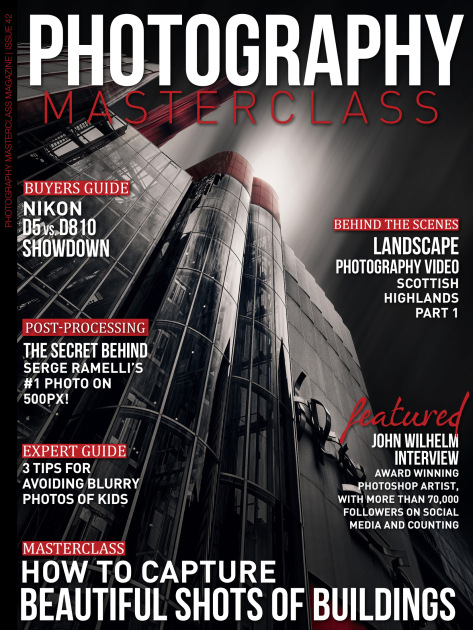 Jun 01, 2016
Photography Masterclass Magazine Newsstand
Issue 42
In this issue
Buildings are everywhere and both old and new architecture can make amazing photos - either as part of a cityscape or more artistic compositions. But they need a little knowledge for you to get the best results. In this issue we look at exactly how to capture beautiful shots of buildings so you can really take your architectural photography to the next level and get some amazing results.
A problem lots of us have faced at one time or another is blurry photos - especially when photographing kids! We take a look at 3 tips for avoiding blurry photos of kids, so you can get super sharp results. Be sure to check out the video tutorials too for some great advice.
We've got plenty of other informative articles and videos to keep you inspired. Kevin Roberts' takes us on a journey of two of his images in a great behind the scenes landscape photography video in the Scottish Highlands (part 1 of a series); Serge Ramelli reveals the secrets behind his #1 photo on 500px; We interview award winning Swiss photographer, John Wilhelm, whose hilarious artistic Photoshop creations have gained him more than 70,000 followers on social media; Discuss whether the $6,500 Nikon D5 is better than the D810; and take a look at the stunning timelapse which shows the spectacular volcanic eruption of the Calbuco volcano in Southern Chile, for the first time in 40 years!
Get all this & more in a content packed issue!