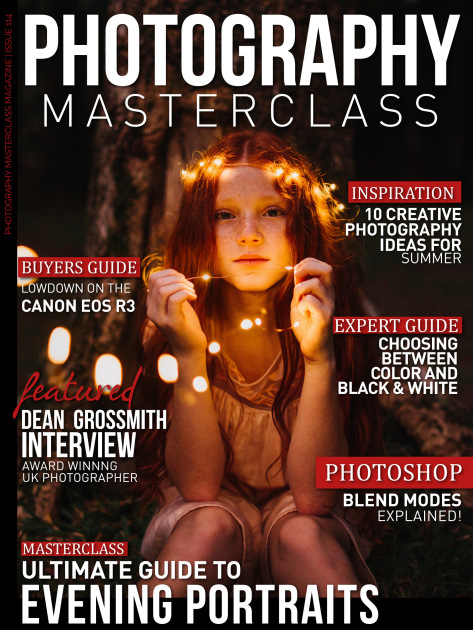 Jun 01, 2022
Photography Masterclass Magazine Newsstand
Issue 114
In this issue
Ultimate Guide To Evening Portraits
Most people automatically gravitate towards photographing portraits during the daytime. And natural daylight does produce stunning portraits. But shooting in the evening and at night can also produce some really atmospheric images – it's just a case of knowing how to work in low light conditions. In this issue we'll run you through the tips and tricks you'll need for beautiful evening portraiture.
Also in this issue:
+ We look at 10 top creative photography ideas for summer!
+ We bring you an in-depth interview with Dean Grossmith, whose drive is primarily motivated by form and shape. He's been recognized for his work in the International Photography Awards and the Sony World Photography Awards. In this interview, you'll get an insight into his various projects.
+ Learn everything you ever wanted to know about blend modes, in a great Photoshop video tutorial.
+ In our expert guide section, we help you learn how to choose between color and black & white in your photography!
+ Experience a beautiful timelapse journey through the mountains and valleys of Germany.
+ And don't miss our lowdown on the Canon EOS R3 – a full-frame professional mirrorless camera from Canon.
Get All This and More In A Content Packed Issue!