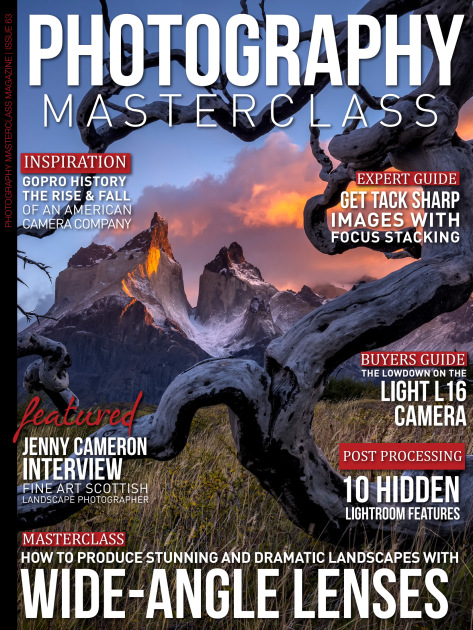 Mar 01, 2018
Photography Masterclass Magazine Newsstand
Issue 63
In this issue
Wide-angle lenses can be one of the most effective lenses in your photography toolbox. But you need to know how to use them properly to get the best out of them. In this issue we look at how to use wide-angle lenses in landscape photography effectively, and how to apply focus staking to get tack sharp images.
Also in this issue:
+ Uncover the history of GoPro in an inspirational video tutorial.
+ We interview Fine Art Landscape Photographer from the Scottish Highlands, Jenny Cameron.

+ We feature a handpicked selection of our favourite photos in our Editor's Choice section.

+ You'll discover 10 hidden Lightroom features you probably didn't know in our post-processing video tutorial.
+ We showcase an incredible timelapse highlighting the city of Chicago in ways not normally seen, with footage spanning 5 years.
+ We also give you the lowdown on the Light L16 camera. The pocket sized camera with 16 lenses built in.
Get All This and More In A Content Packed Issue!