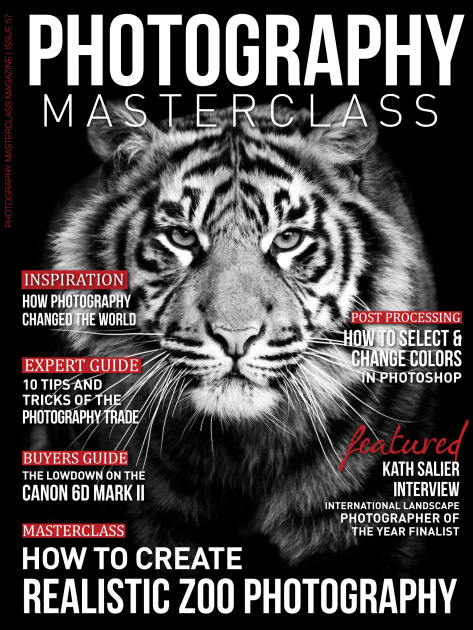 Sep 01, 2017
Photography Masterclass Magazine Newsstand
Issue 57
In this issue
Shooting at a zoo can be a great place to work on your wildlife photography. But how do you make sure you are getting realistic shots that look like they were shot in the wild, and not just some snapshots from a day out at the zoo? In this issue we show you exactly how to shoot and post process to get images that look like you've just come back from a real adventure in the wild.

Also in this issue:
+ We look at how photography has changed the world, in an inspirational video tutorial.
+ In our expert guide, Jo Plumridge reveals her top 10 tricks of the photography trade.
+ We interview Australian Landscape and Seascape photographer, and International Landscape Photographer of the Year finalist, Kath Salier.
+ We feature a handpicked selection of our favourite photos in our Editor's Choice section.
+ You'll discover how to easily select and change colors in Photoshop in a great video tutorial.
+ We showcase an amazing timelapse that combines slow motion shots weaved together with timelapse work, to tell a short story of a city born from the desert.
+ We also give you the lowdown on the Canon 6D Mark II. After a wait of 5 years since the 6D Mark I, Canon have finally released the 6D Mark II, but who is this camera for and should you buy one?
Get All This and More In A Content Packed Issue!