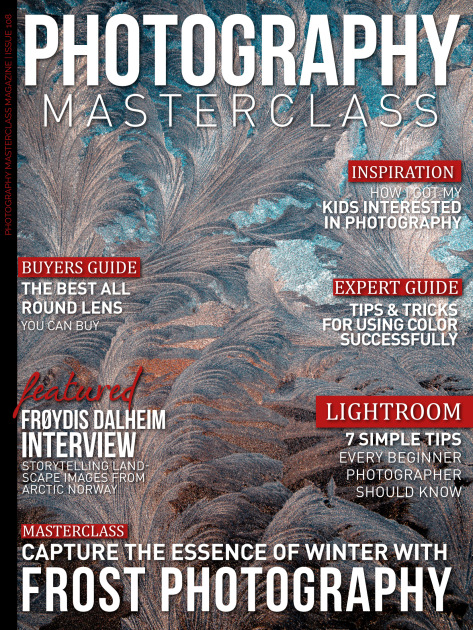 Dec 01, 2021
Photography Masterclass Magazine Newsstand
Issue 108
In this issue
Frost is an underrated photographic subject matter, but frost can add a delicate feel to images and produce beautiful patterns. In this issue of Photography Masterclass Magazine, we'll give you all the know-how you'll need to capture frost perfectly.
Also in this issue:
+ In our inspiration section, we look at how to get kids interested in photography!
+ We bring you an in-depth interview with Arctic Norway landscape photographer, Frøydis Dalheim. Lots of her images feature her, which add to the visual appeal and storytelling that she is trying to create.
+ Discover 7 simple Lightroom tips every beginner photographer should know, in a great video tutorial.
+ In our expert guide section, learn tips & tricks for using color successfully in your photography!
+ Experience an incredible night sky timelapse - a result of 6 years and 60 hours of footage.
+ And don't miss our lowdown on what we think the best all round lens you can buy is!
Get All This and More In A Content Packed Issue!