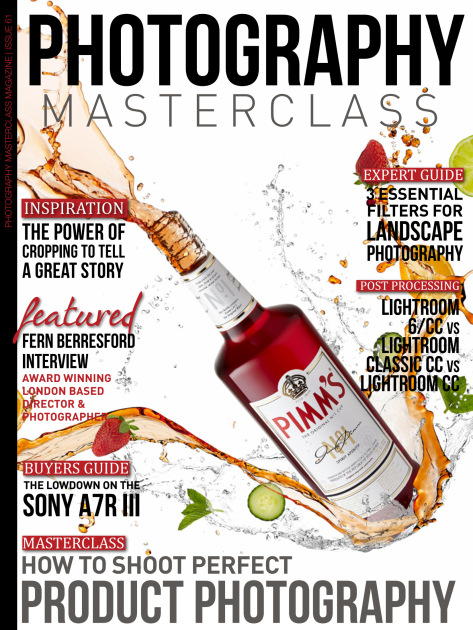 Jan 01, 2018
Photography Masterclass Magazine Newsstand
Issue 61
In this issue
Product Photography is one of those cornerstone photography genres that's needed all around the world. Businesses small and large need good product photography to showcase their products effectively.
But how do you take amazing product shots that have that professional look to them? In this issue we delve into exact techniques and setup you need to start taking great product shots.
Also in this issue:
+ In an inspirational video tutorial, you'll see how cropping can be a powerful way to compose a picture and tell a great story
+ In our expert guide, we look at the 3 essential filters for landscape photography, what you use them for and how to get the best out of them.
+ We interview award winning London based director & photographer, Fern Berresford, whose images have been recognised across the industry as being full of "atmosphere and cinematic drama".
+ We feature a handpicked selection of our favourite photos in our Editor's Choice section.
+ You'll learn about Adobe's new version of Lightroom, Lightroom Classic CC and Lightroom CC, in a great video tutorial.
+ We showcase an amazing timelapse that captures the amazing aurora borealis over Central Oregon.
+ We also give you the lowdown on the Sony a7r III.
Get All This and More In A Content Packed Issue!