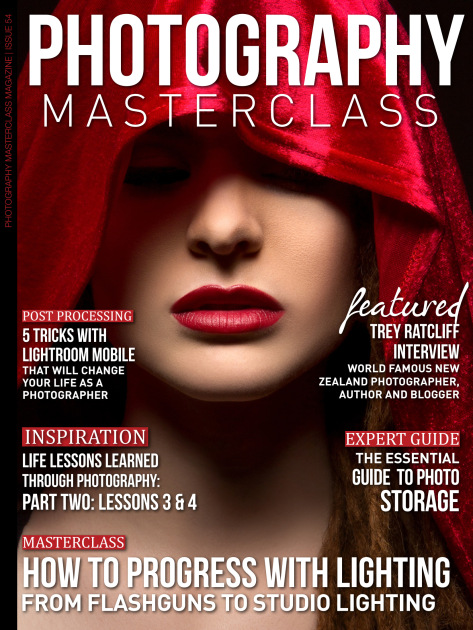 Jun 01, 2017
Photography Masterclass Magazine Newsstand
Issue 54
In this issue
Most photographers start their lighting journey with a flashgun. Taking your flash gun off camera is the first step on the journey to progressing to studio lighting. In this issue, we look at exactly how to progress with studio lighting - from using flashguns effectively, through to setting up and using your own studio lighting. You'll see exactly how to use these various lighting setups and the impact they can have on your images!
Also in this issue:
+ Find out the best life lessons learned through photography in an inspirational video series - in this issue lessons 3 and 4.
+ In our expert guide, we cover the essentials of photo storage solutions, so you can discover the best options for you.
+ We interview world famous New Zealand photographer, author and blogger, Trey Ratcliff, who is most well-known for his incredible HDR images, amassing over 16 million followers on social media.
+ We feature a handpicked selection of our favourite photos in our Editor's Choice section.
+ You'll learn 5 tricks with Lightroom mobile that will change your life as a photographer, in a great video tutorial.
+ We showcase an amazing timelapse that captures the beauty and drama of storm chasing at its best! For the last few years, Mike Olbinski has made it his mission to chase and capture the biggest storms of the year and this year is not exception!
+ We also give you the lowdown on the Edelkrone SliderPLUS X and Motion Kit, the worlds smartest and most portable 4-Axis motion control system - great for creating incredible timelapse and stop motion videography.
Get All This and More In A Content Packed Issue!