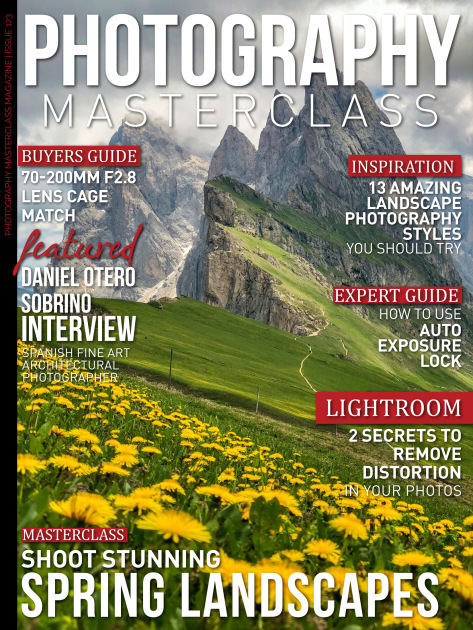 Mar 01, 2023
Photography Masterclass Magazine Newsstand
Issue 123
In this issue
Shoot Stunning Spring Landscapes
Spring is a season of rejuvenation and renewal, and there's no better way to capture its beauty than through the lens of a camera. In this issue of Photography Masterclass Magazine, we delve into the art of shooting stunning spring landscapes. From finding the perfect composition to capturing the vibrant colors of blooming flowers and lush green fields, we share our tips and techniques for creating captivating images. Whether you're an amateur or a seasoned pro, this masterclass will inspire you to head outside and capture the breathtaking scenery of the season. So grab your camera, step outside, and join us as we explore the art of spring landscape photography.
Also in this issue:
+ We explore 13 amazing landscape photography styles that you should try.
+ We also show you how to use auto exposure lock to get the perfect shot.
+ Learn 2 secrets to remove distortion in your images, in a great Lightroom Classic editing video tutorial.
+ We also feature an interview with Spanish fine art architectural photographer, Daniel Otero Sobrino. Daniel has carved his path in a photography niche that is still relatively in its infancy and in a few short years he's managed to conquer and perfect it. You'll be amazed by his ethereal images of buildings and structures.
+ Join in a stunning city timelapse video on Chicago.
+ And for those of you who are always on the lookout for the latest and greatest gear, we've got a 70-200mm lens cage match, where we pit some of the best lenses against each other to determine which one will come out on top.
Get All This and More In A Content Packed Issue!